Introduction
The PV1PSU is a power supply unit that is used in conjunction with the PV1 Universal Active Probe from Introspect Technology. Specifically, the PV1PSU provides a standalone power source that allows the PV1 to be connected to any oscilloscope or spectrum analyzer. This way, the PV1 is completely agnostic to test instrument vendors, and it can be used to measure low-voltage signals with ease and convenience.

Benefits
• Allows for PV1 probe attachment to any 50 Ohm instrument
• Powers 10 probes simultaneously
Features
• 12 V DC input (AC adapter included)
• Rugged power cable connections with integrated protection
• Low noise voltage rails for superior probe dynamic range
Specifications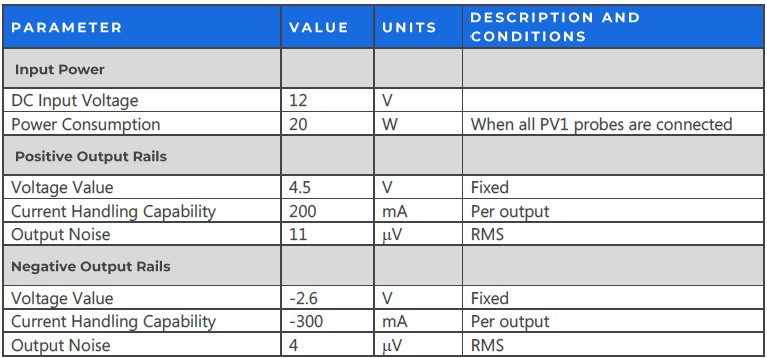 What's included
1 x PV1PSU Power Supply
1 x 12v AC Adapter
My AutoQuote | Easy & Fast
Easily generate and keep track of your quotes. You can also place an order based on an active quote. Both Quotes and Orders are organized for you under your account page.
More information