Isolated Wireless Communication Converter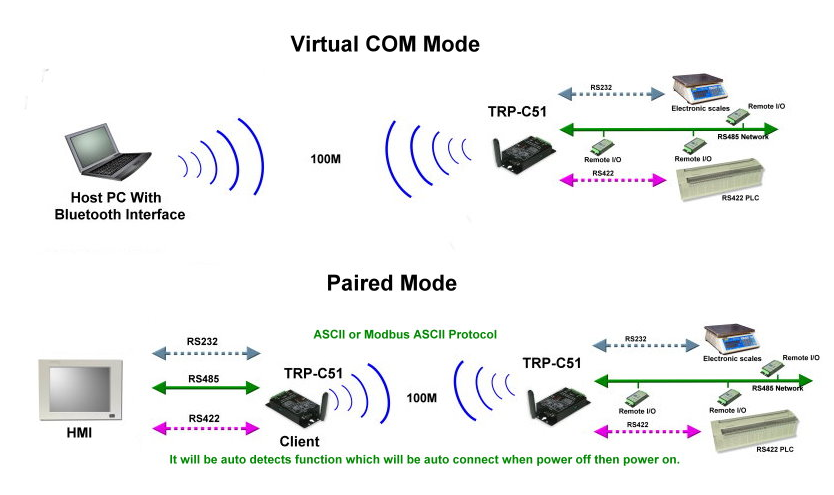 Based on Bluetooth technology TRP-C51B allows you to wirelessly connect your RS-232/422/485 devices to systems within the range up to 100m.
- Bluetooth interface compatible with PDA and PCBase system
- Transmission range open filed 100m
- Using the outdoor direction antenna can up to 1km
- Bi-directionally RS-485 signals communication
- Surge protection on RS-422/RS485
- DIN rail and panel mount support
What's included
- TRP-C51B Converter*
*Power Supply is not included
My AutoQuote | Easy & Fast
Easily generate and keep track of your quotes. You can also place an order based on an active quote. Both Quotes and Orders are organized for you under your account page.
More information
Specifications
| | |
| --- | --- |
| Power Requirement | DC voltage input from +10V to +30V. |
| Baud Rate | 1.2 Kbps to 256 Kbps |
| Data Bit | 8 |
| Support Parity Check | None, Even, Odd |
| Stop Bit | 1, 2 |
| Wireless Transmission Distance | Open filed: 100m |
| RS422/485 Distance | Up to 1200m |
| Power Input Type | Screw terminal or DC plug (5.5*2.1*12mm/500mA) |
| Power Consumption | 1.2 W |
| Dimension | 151 mm x 75 mm x 26 mm. |
| Weight | 400 g |