Debug and Analyze I2C/SPI/eSPI/A2B
Start building your own embedded development system with the Promira state-of-the-art hardware. Integrated level shifting, high-speed USB/Ethernet communication and 200 mA of power supported. Add any additional option to enhance the functionality of the platform like SPI level 1, 2 and 3.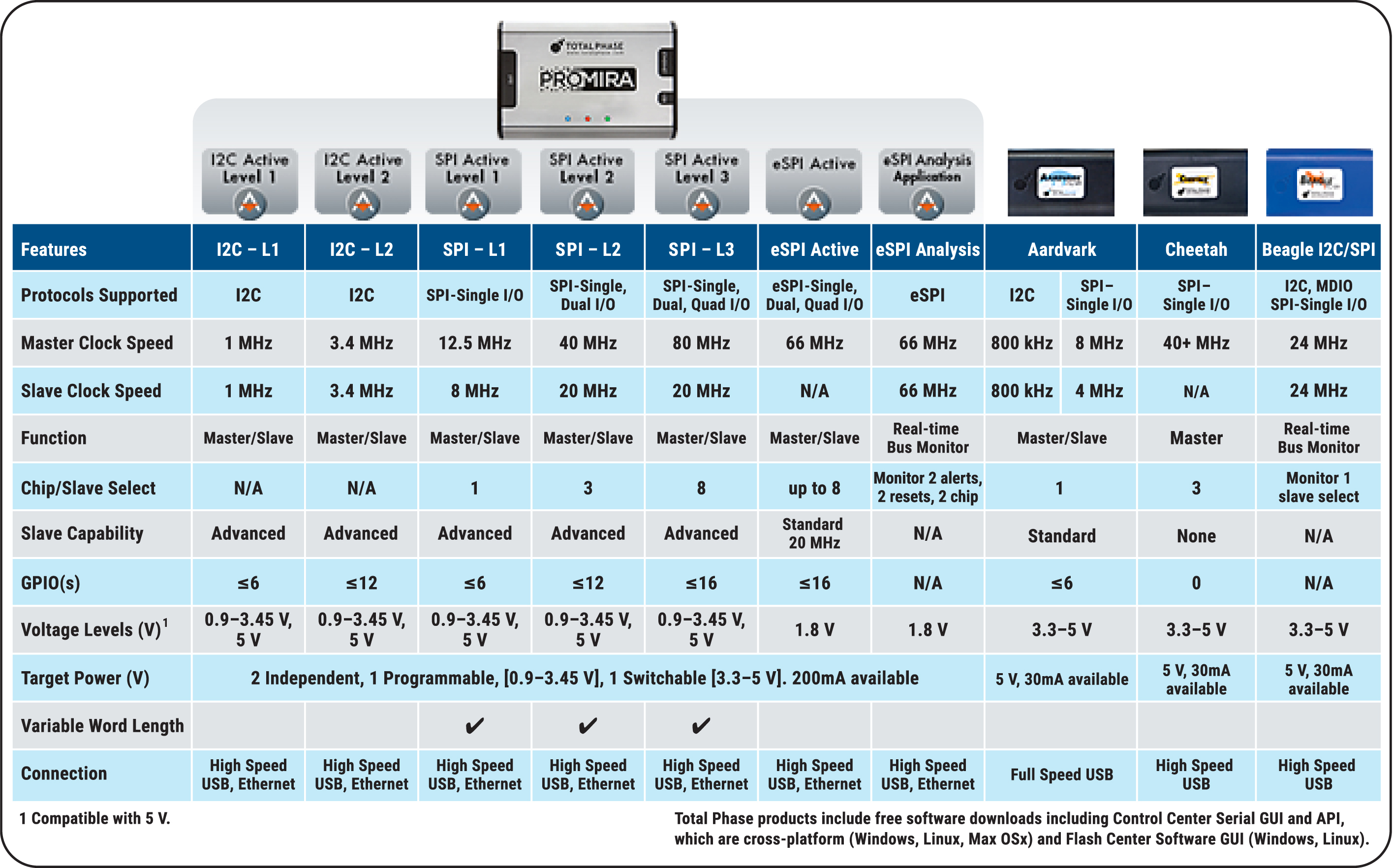 What's included
Promira Serial Platform Hardware
(1) 34-Pin: 34-Pin Header Cable 100mm
(1) 34-Pin: 10-Pin Header Cable
(1) 3 foot USB Micro A-> Micro B cable
My AutoQuote | Easy & Fast
Easily generate and keep track of your quotes. You can also place an order based on an active quote. Both Quotes and Orders are organized for you under your account page.
More information
Specifications
I2C Master

1 kHz – 3.4 MHz

I2C Slave

1 kHz – 3.4 MHz

SPI Master

31 kHz – 80 MHz

SPI Slave

31 kHz – 20 MHz

eSPI Active Examples Master

66 MHz

eSPI Analysis

66 MHz

1 passive only node for bus monitoring

Yes

1 passive/active node for bus monitoring or active simulation as a master or slave node
Yes
Target Bus Interface

• I2C Master/Slave
• SPI Master/Slave
• eSPI Simulator Examples/Analyzer
• Up to 16 GPIO pins

Host Bus Interface
• USB 2.0 Micro B receptacle
• 10/100/1000 Ethernet receptacle
DC Characteristics



• Target Power: 5 V/3.3 V, 100 mA max
• I/O Power: 0.9 V – 3.45 V, 100 mA max
• I2C/SPI/GPIO Signal: 0.9 V – 3.45 V, 10 mA max

Dimensions (w x d x l)
77.5 mm x 29.2 mm x 115.6 mm
Weight
153 g
Operating Temperature
10°C – 35°C
Product information
Overview
The Promira Serial Platform is the most advanced serial device ever. This new, powerful platform offers many benefits over the previous generation of host adapters:


Integrated level shifting ensures you'll be able to work at a variety of voltages ranging from 0.9 to 5.0 volts without needing any costly accessory boards.


High-speed USB connectivity to the host system provides high performance and convenience for benchtop programming, testing, and emulation.


Ethernet connectivity is convenient for benchtop work, and it also enables remote control for your automation needs.


With the ability to provide a total of 200 mA of power, Promira can easily power your project, simplifying connectivity and troubleshooting.


New architecture enables you to download applications to the Promira platform - Upgrade your device when you need new features and you'll never wait for that emergency delivery in the middle of your project.
Available Options



I2C Active - Level 1 Application

I2C programming speeds are twice as fast as the Aardvark I2C/SPI Host Adapter. Featuring support for the I2C fast mode plus specification, Promira platform equipped with the I2C Active - Level 1 Application provides high speed I2C programming, high performance debugging, and superior emulation for your I2C protocol needs.

I2C Active - Level 2 Application

I2C programming speeds up to 3.4 MHz for Master and Slave. Featuring support for the I2C High Speed Mode specification, Promira platform equipped with the I2C Active - Level 2 Application provides high speed I2C programming, high performance debugging, and superior emulation for your I2C protocol needs.

SPI Active - Level 1 Application

SPI programming speeds are over eight times faster than the Aardvark I2C/SPI Host Adapter. Supporting clock speeds of up to 12.5 MHz for master and 8 MHz for slave functionality, Promira platform equipped with the SPI Active - Level 1 Application provides fast programming, ultra-high performance debugging and superior emulation for your SPI protocol needs.

SPI Active - Level 2 Application

SPI programming speeds are even faster than before - supporting clock speeds of up to 40 MHz for master and 20 MHz for slave functionality, Promira platform equipped with the SPI Active - Level 2 Application provides fast programming, ultra-high performance debugging and superior emulation for your SPI protocol needs.

SPI Active - Level 3 Application

SPI programming speeds are even faster than before - supporting clock speeds of up to 80 MHz for master and 20 MHz for slave functionality, Promira platform equipped with the SPI Active - Level 3 Application provides fast programming, ultra-high performance debugging and superior emulation for your SPI protocol needs. The eSPI Active Example files also show you how to use your SPI Active licensed Promira Serial Platform to act as a master for the eSPI protocol.

eSPI Analysis Application

You will be able to monitor eSPI communication, including monitoring communication between a master and slave on accross the data lines, 5 channels (peripheral, virtual wire, OOB, Flash, Independent), 2 alert lines, 2 reset lines and more. The eSPI Active Example files also show you how to use your SPI Active licensed Promira Serial Platform to act as a master for the eSPI protocol.

A2B Bus Monitor - Level 1 Application

You will be able to non-intrusively monitor A2B communication. Multiple views provide information about A2B bus data (including I2C data, GPIO data, Interrupts), Node Topology, and I2S/TDM audio data and configuration. A Promira platform licensed with the A2B Bus Monitor - Level 1 Application is a compact solution excellent for bench top prototyping and in-vehicle field testing.

Operating Systems

Windows
Linux
Mac OS X (32-bit and 64-bit)